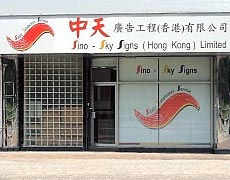 Sino-Sky Signs (HK) Ltd is a signage contractor that has been established in 1998 with technical support from our associated companies in Singapore. Basing on our belief (Supply Satisfactory Services), we have penetrated on petroleum businesses other retail markets and has remarkably granted as a listed contractor of many big enterprises. They will be clearly stated in our job references.  
In Shezhen, we have already set up a plant for making metal / plastic decoration objects. In case the client intent to produce bulk production of small signage such as door signs or small silk-screened objects, we would like to manufacture in our factory in Shenzhen in order to maintain high rate of cost effectiveness.  
Sino-Sky Signs (HK) Ltd can play easy role from graphics design, signage manufacturing & the last, total installation including from sticker application to electricity work. Even daily maintenance work & cleansing are also our major concern. All of the working processes of manufacturing signage will be done by Sino-Sky herself. For the sake of controlling time cost, we have prepared our direct labour team right from the start. They are consisted of fabricator, welder, installator, sticker applicator & registered electrician. Allocation of labour resources can be easily manipulated by our experienced leadership.